Malthe Jakobsen earns his first pole position in the US with a record-setting lap at Road America
ELKHART LAKE, Wis. (6 August 2022) – Sean Creech Motorsport (SCM) will start at the front of the LMP3 field for Sunday's IMSA Fastlane SportsCar event (11:40 a.m. Eastern, PeacockTV and USA Network), scoring a pole position for his first race at legendary Road America.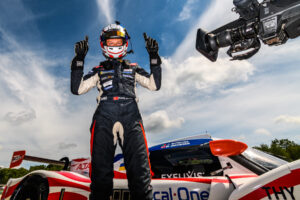 Paired this weekend with João Barbosa, Jakobsen put the No. 33 SCM Exelixis/Focal One/Alta Equipment Ligier JS P320 on the pole with a lap of 1:59.434 around Road America's tricky 4.048-mile circuit to set a new LMP3 track record. In hot and humid conditions, the 18-year-old Dane set the quickest lap of the weekend – the only LMP3 car to complete a lap under two minutes, eight-tenths of a second clear of his nearest competitor.
Jakobsen has been a quick study at each of his previous North America events (Daytona, Sebring and Watkins Glen) and Road America has been no different. He posted the quickest class lap (2:00.439) in the first practice session Friday morning by three-tenths of a second, then Barbosa followed that up with the third-quickest time that afternoon. The lessons learned in those two sessions helped the team set up a car that Jakobsen was able to take to the front of the field.
"The most important thing was to get heat in the tires as fast as possible to make sure I wasn't pushing them while they were still cold," said Jakobsen. "You have to build temperatures and pressure slowly so they're ready to go for the quick lap. The team did a great job on everything today, it all worked! I'm really happy to get the team its first pole in the series, now we have to translate that to a win. João has won here before so I know we can get it done. It was great, though to get the pole today, especially since we have lots of people here from our sponsor, Alta Equipment Company. I'm glad we could do it for them!"
The team conducted a two-day test at the Wisconsin road course two weeks ago, and Jakobsen quickly learned that while there are plenty of wide-open spaces at Road America, the track narrows dramatically – especially when there are 36 other cars on track.
"Hopefully this will help us, we will have clean air for a while – starting out in front of the class helps once the DPi and LMP2 cars start coming through. And of course, we might have some weather, so that will make it interesting. João has experience in the rain, and I have raced some in the rain in the LMP3 but not a lot. We'll see what happens!"
SCM thanks partners Alta Equipment Company, and Focal One for their continued support.
The IMSA Fastlane SportsCar race takes the green flag Sunday at 11:40 a.m. Eastern. The race will be broadcast in its entirety on Peacock TV in the U.S., with USA Network joining the broadcast at Noon Eastern. International viewers can watch via IMSA.tv, with IMSA Radio also available at IMSA.com.
About SCM
Team leader Sean Creech has competed in a multitude of sports car series from 1990 until the present day, including Group C, IMSA GTP, WSC, Grand-Am, SRO World Challenge, and IMSA. SCM will contest the full WeatherTech SportsCar Championship in 2022 with João Barbosa and Lance Willsey.
About Alta Equipment
An industry-leading material handling and construction equipment company, Alta Equipment is an innovator of solutions, delivering diverse products and unrivaled support centered on building lasting customer relationships. Alta Equipment began in 1984 with a single location in Detroit and has grown to 57 locations throughout the Midwest, Northeast, and Florida.  https://www.altaequipment.com/
About Focal One
One in eight men will be diagnosed with prostate cancer during their lifetime in the United States. The Focal One® HIFU Prostate treatment offers patients a non-invasive outpatient procedure to target prostate tissue while avoiding the common side effects such as loss of urinary continence and sexual function. The Focal One treatment uses high-performance, high-intensity focused ultrasound (HIFU) to precisely target and ablate the prostate, allowing patients to quickly return to normal activities.http://www.focalone.com/