Florida-based team paced in the top three in every practice session at the Roar Before the Rolex 24
DAYTONA BEACH, Fla. (22 January 2023) – Jupiter, Florida-based Sean Creech Motorsport (SCM) scored its first pole position at the track it considers home, taking the top spot in the LMP3 class for next weekend's Rolex 24 at Daytona International Speedway (Saturday at 1:30 p.m., NBC) – race one of the 2023 IMSA WeatherTech SportsCar Championship.
Nico Pino powered the No. 33 SCM Exelixis/Focal One/Jerich International Ligier JS P320 to the front of the field as the team gave the 18-year-old Chilean a car that gave him the confidence to head right to the top of the charts.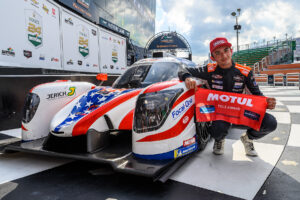 Drivers João Barbosa, Lance Willsey, Danny Soufi and Pino, along with SCM engineers and mechanics, worked through balance issues in four test sessions (the team chose to sit out the very wet night practice Saturday evening), though they put the No. 33 into the top three in every session. The team also battled through the typically changing Florida weather – with a warm day Friday, rain on Saturday and wind on Sunday.
Pino, who set the team's quickest lap of the weekend in the second test session on Saturday (with a lap at 1:42.961) held that position after the 15-minute qualifying session, culminating in the team's second IMSA WeatherTech series pole (the first pole coming last season at Road America) with a lap at 1:43.197.
"This is so special," said Pino. "To take my first ever pole position at Daytona is amazing. This is a special race for every driver, and it's a great way to start the season. I had expected oversteer, given how green the track was, but we had a bit of understeer, so we have to work on that – but I think there were four or five tenths left in the car. Now, we need to work on strategy – but it's good to know we have a clear track in front of us, in terms of LMP3 cars.
"It's going to be challenging," continued Pino. "You have to take extra precautions out there, especially with all the LMP2s and hybrid cars out there. If we can survive the first couple of hours when everything is so frantic, and be in a good position, we can go for the win. I'm looking forward to the best result possible – and hopefully taking the watch!"
Team principal Sean Creech has raced at Daytona countless times, but to take pole for the Rolex 24 is a very special moment.
"This is awesome for the entire team," said Creech. "We struggled with the setup and got it sorted out for qualifying so it's a good start. The track changes so much – it changed so much from the test last month to now and it will change again before next Saturday. We'll prep the next two days, take a few hours off, then work on the car in practice next week. The key to the 24 is simple: no mistakes."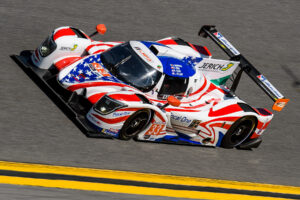 "It's been a challenging weekend," said four-time Rolex 24 winner Barbosa. "That car didn't unload off the truck like we expected but we were quick in every session, which is encouraging. It's fast, no matter the conditions, and we've made good steps forward – and Nico just proved that. It's a credit the whole team and the work they've done, and I'm confident we'll have a good car for the race. Now it's up to the Daytona gods to see what they'll throw at us. Keep the car clean, fuel and tires the whole way, avoid mistakes and penalties and we'll see what happens."
"It means the world to the team to be starting on a poll for the Rolex 24," said Willsey, who will contest his 13th Rolex 24. "It means that Sean and the team have built a winning organization. We had a race win and a pole last year and this is sort of a continuation of the experience. We rolled off the trailer and we were far from in the zone with the car; it was a real struggle, but it all came together in qualifying. Now we can put our heads down and get ready for the race – and that's a whole new ballgame"
"These were my first sessions at Daytona and my first time dealing with lots of traffic," said Soufi. "Busy is an understatement! There are a lot of cars out there, but I think it's just about learning to manage the traffic then finding pace. I have good pace, but there is still room to improve. I know a few things I need to do to pick up some time, but the car is very quick. Nico did a fantastic job in qualifying to put it on pole and hopefully we can replicate that next Sunday."
VP Racing SportsCar Challenge
Willsey also competed in the series' inaugural doubleheader. Unfortunately, he was hit in both races but battled back to take a seventh-place finish in race one, and fourth in race two.
"I strongly believe the VP series has a strong future in front of it and I think that it has a great format," said Willsey. "I had my own challenges in the first couple of races with some incidental contact but I had a good car and I can't complain, it was good fun out there. The racing was good, the two classes I feel intermingled and played well together, which I was very pleasantly surprised by. I think the series has a bright future and I would love to see the grids grow and see where it goes from there. I think it's great racing."
SCM thanks partners Exelixis, Focal One and Jerich International for their continued support.
The Rolex 24 At Daytona takes the green flag Saturday at 1:40 p.m. Eastern. The race will be broadcast live in the U.S. on the NBC family of networks, beginning and ending with network NBC. The race will also be live streamed in its entirety on Peacock TV. International viewers can watch via IMSA.tv, with IMSA Radio also available at IMSA.com.
About SCM
Team leader Sean Creech has competed in a multitude of sports car series from 1990 until the present day, including Group C, IMSA GTP, WSC, Grand-Am, SRO World Challenge, and IMSA. SCM will contest the full WeatherTech SportsCar Championship in 2023 with João Barbosa and Lance Willsey.   http://seancreechmotorsport.com/
About Focal One
One in eight men will be diagnosed with prostate cancer during their lifetime in the United States. The Focal One® HIFU Prostate treatment offers patients a non-invasive outpatient procedure to target prostate tissue while avoiding the common side effects such as loss of urinary continence and sexual function. The Focal One treatment uses high-performance, high-intensity focused ultrasound (HIFU) to precisely target and ablate the prostate, allowing patients to quickly return to normal activities. http://www.focalone.com/ 
About Jerich International
Jerich International is a family-owned global group of companies that offers large-scale trade and industry customers a holistic logistics approach to freight forwarding through global supply chain management. The company makes use of tailor made concepts, extensive know how and immeasurable experience to set industry-leading practices in logistics.  https://www.jerich.com/