Four-time Rolex 24 winner imparts his knowledge to drivers beginning their racing careers
JUPITER, Fla. (June 13, 2023) – Three months is a long time to wait in between IMSA WeatherTech SportsCar Championship races, but Sean Creech Motorsport (SCM) driver João Barbosa has continued to spend his share of time at the racetrack – not behind the wheel, but as a driver coach.
Barbosa, with four Rolex 24 at Daytona wins and two IMSA WeatherTech series championship titles on his CV, knows better than most how to get the most out of a race car, whether it's a GT car or the team's No. 33 SCM Focal One Ligier JS P320. He began coaching "seven or eight years ago" as a way to help a team's young drivers and over the past few years, has seen that side of his racing life take off – in a big way.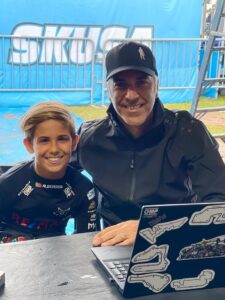 "To be honest, I didn't think I would enjoy it when I first started coaching, but the more I do it, the more I enjoy it," said Barbosa. "Now I work with several drivers, in many different stages of their careers – from young drivers to more experienced drivers, and a few "gentlemen" drivers as well who are looking to improve their driving skills. I work with drivers in Ferrari Challenge, Porsche Cup and open wheel.
"It's very rewarding, seeing the drivers progress over time. They're all really nice people to work with and very much want to learn. Like the driver in Ferrari Challenge – she only did two races last year and is fairly new to racing, but she's done a super job and is very motivated to continue."
Coaching input can range from just spotting, looking through video and data, and making suggestions on driving style to working on sim training with the driver before and after race weekends. The key is to figure out early exactly what the driver wants.
"Every driver and every series is different – there's not one way that works for everyone. On the Ferrari Challenge side, it starts with testing. I'll put down a lap to give us something to compare to, to find out where the strong points and weak points are and where we need to improve. Throughout the weekend, it's about improving driving style and driving techniques, using all the knowledge I've accumulated over the years.
"Then on the race weekend, it's a matter of passing on my racing experience, so they know what to expect around other cars – how to behave, what to do and what not to do, giving them a heads up so they know how to react in different situations during the race. It's quite rewarding, seeing their race craft improving, seeing everything come together. At the tracks where we can get a good view, I'm talking to the driver during the session, finding spots where they can improve time and help to keep them motivated."
The key to being a successful coach is to delve deeply into each driver's thought processes – how they process information, how they like to receive information, what is their level of skill and how hard they want/need to be pushed. Barbosa works hard to understand each driver and establish that relationship as quickly as possible.
"Each driver has a different set of priorities and responds to different inputs so that's really the challenge – to make sure communication is working for the individual driver. Some get up to speed more quickly than others, and some drive at the same speed no matter if they have new tires or old tires – they have to learn to trust the grip of new tires. I don't have a set list of what every driver should do – they have to adapt at their own speed. It's also about the type of communication they want to hear, and how they want to hear it, learning how to understand each other. It's a process.
"It's not necessarily a straightforward learning curve, for someone with little experience. There's a great deal involved in learning to drive a race car at speed – technique, learning how to hit apexes, driving lines. It's not just about driving fast, it's about race craft. I can share my experience of what to do in a race situation, and that's the biggest challenge for drivers just starting out. It's great to watch them improve. It's good to learn from your mistakes but if you have someone working with you who's done it, the process goes much more quickly. More information is better!"
Barbosa has a new task on hand, having recently begun working with a young driver in the US F4 series. Does working with a junior open wheel series versus a sports car series require a difference in coaching style?
"At the end of the day, it's really all the same," said Barbosa. "The techniques in an open-wheel car are a bit different than a sports car, and it's also different working with a young driver. The goals are different for every driver, especially when the driver is just starting out and is looking to move up the ladder. But it's just as much fun to watch them learn and progress and improve."
Next up for Barbosa and co-drivers Lance Willsey and Nico Pino will be the Sahlen's Six Hours of the Glen, June 22 – 25 at Watkins Glen International.
About SCM
Team leader Sean Creech has competed in a multitude of sports car series from 1990 until the present day, including Group C, IMSA GTP, WSC, Grand-Am, SRO World Challenge, and IMSA. SCM will contest the full WeatherTech SportsCar Championship in 2023 with João Barbosa and Lance Willsey.   http://seancreechmotorsport.com/
About Focal One
One in eight men will be diagnosed with prostate cancer during their lifetime in the United States. The Focal One® HIFU Prostate treatment offers patients a non-invasive outpatient procedure to target prostate tissue while avoiding the common side effects such as loss of urinary continence and sexual function. The Focal One treatment uses high-performance, high-intensity focused ultrasound (HIFU) to precisely target and ablate the prostate, allowing patients to quickly return to normal activities. http://www.focalone.com/