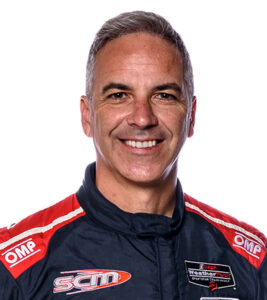 WeatherTech SportsCar Championship Prototype Class championship titles: 2015 and 2014

Rolex 24 at Daytona: 19 appearances, four victories (2018, 2014, 2010 and 2003)

24 Hours of Le Mans: Nine appearances, podium in 2011 (3rd)
João Barbosa literally has racing in his DNA.
"My parents were big race fans, and they did weekend autocross events with their friends in their Mini," said Barbosa. "In fact, my mom was pregnant with me when she was doing some of those competitions! She won a lot of trophies, so I guess it was meant to be.
"My uncle had a kart, and we would go watch him race when I was young, and really enjoyed it when I tried it. My dad told me that if I had good grades in school that he would buy me a kart for Christmas and that's how I started racing. At first, it was just on the weekends with my brother, and it was really good fun. My first official year was 1987, because you had to be 12 years old to start racing."
Barbosa earned the national karting championship title in 1988, 1989 and 1990. He competed in the Junior World Cup and finished third in the karting World Championship Formula A in 1991, held at Le Mans. Moving into race cars at the age of 18, he earned the Portuguese Formula Ford championship in 1994, and the Formula Europa Boxster title in 1995. In 1996, he was runner up in Italian Formula 3, which earned him a test in the Scuderia Minardi Formula One car.
"Everyone was excited by my test, and the potential was there, but unfortunately I just didn't have the budget. I'm happy I got the test, though – it was great to be able to experience that car. As you'd expect, it was more of everything: more power, more brakes, more aero, everything."
Looking for the next step, Barbosa was introduced to the RDS Motorsport team, contesting the 1997 Formula Atlantic Championship. He made the move to the United States – and never looked back.
"I got sponsorship from Toyota Portugal and came to the U.S. in late 1996, when there was only one other Portuguese driver (Pedro Chaves) racing here. But it was such an awesome experience. I traveled everywhere with the team, learning a new car and new tracks – including two ovals – so it was a lot to learn, but I grew a great deal in that year. It showed me what racing in the U.S. was, and I knew I wanted to stay here."
Once in the U.S., Barbosa began a trajectory that would take him to the top of the sports car racing world. He met Warren Mosler, whose shop was in West Palm Beach, Fla., as the team was developing their new MT900 GT car for the Grand Am Rolex series.
"I didn't do a lot of racing those first couple of years, but I was very involved in developing the car. But that opened a lot of doors and opportunities for me to continue my career. My career in sports cars really gained traction."
Early in that sports car career, in 2000, Barbosa would also meet a young Sean Creech, who was working with Michael Colucci Racing. Barbosa drove at Sebring for Colucci and began a friendship with Creech that would one day prove quite fruitful.
Barbosa rose quickly through the racing ranks, driving with such historic names as Mosler, Brumos, Rollcentre and Action Express Racing. He has earned numerous race wins and championship titles, and competed in series across the global spectrum, including:
Grand Am Rolex Sports Car Series

American Le Mans Series (later the United SportsCar Championship and now the IMSA WeatherTech SportsCar Championship)

24 Hours of Le Mans

Le Mans Endurance Series (now the European Le Mans Series)

FIA GT

Super Sport Car Austria Euroseries

Japanese GT Championship

Radical Challenge Portugal

NASCAR K&N Pro Series West

Intercontinental Le Mans Cup (which became the World Endurance Cup)
Barbosa's win column reads like a "who's who" list of legendary North America circuits, including the following victories:
Rolex 24 at Daytona, Daytona International Speedway (2003, 2010, 2014, 2018)
Mobil 1 Twelve Hours of Sebring, Sebring International Raceway (2012, 2015)
Sahlen's Six Hours of the Glen, Watkins Glen International (2012, 2013, 2016, 2017)
Acura Sports Car Challenge, Mid-Ohio Sports Car Course (2013)
IMSA Sports Car Weekend, Road America (2014)
Petit Le Mans, Michelin Raceway Road Atlanta (2011, 2015)
Indianapolis Motor Speedway (2014)
Over his career in the U.S. Barbosa has amassed 22 wins, 19 pole positions and 53 podium finishes, logging a staggering 32,000+ laps.
But for Barbosa, what stands out the most from this legendary career are not the wins or the titles, but the relationships he has made along the way.
"The first time I raced at Daytona, it was such a shock. I had no idea how big and how historic the track was, but it was such an awesome place. To be able to win there is very, very special. I've met so many great people and made so many great friendships along the way. The wins and the championships that I've had are all with great people and that's what I take the most from my career. Those are the best memories. Racing is a small world and it's part of your family when you're doing it for this many years."
That Barbosa can take that experience and combine it with Creech's racing career, which spans over 30 years, is a point of pride. He is not simply a driver with the team: he is an integral part of the program as the team establishes itself in the WeatherTech SportsCar Championship. Barbosa and Creech had always hoped to do something together again, so when the opportunity presented itself, he didn't think twice.
"It's a team with a lot of experience, but the IMSA WeatherTech series is new territory. With my experience, I felt I could help both the team and Lance develop even quicker. The timing was perfect: finally, all the planets aligned for Sean and me to work together again. It's a great match.
"This is not just a one-off: they are building a strong team for the future. Lance has raced for a long time and he's super competitive and demanding – in a good way. He's very involved in everything that happens and he wants to see both himself and everyone around him become better."
The next generation Barbosa may be just around the corner, as oldest son Rodrigo, 18, has become more interested in racing over the past few years. Racing has always been a family endeavor for the Barbosas, shared by wife Mariana and younger son Gil, 13, as well.
"My oldest son wasn't all that interested in racing but suddenly, he's now very interested in karting and racing! We did a 14-hour karting race in February with End Alzheimer's Racing and it was great fun, to be able to share that. Family is the most important of my life and to have their support means so much. I've been very fortunate to have such a great family, through the good years and even the not-so-good years. It's been a fun ride."