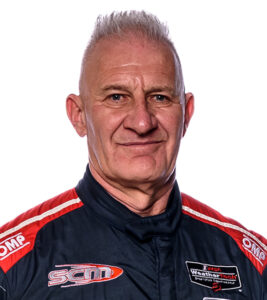 Resides: Chestnut Hill, MA
Age: 60
As a youngster growing up in Davis, Calif., Lance Willsey loved fixing things. His father, who had competed in hill climbs with the Porsche he bought as a young man while stationed in Germany with the U.S. Army, got him a motorcycle at the age of 8, and he immediately started flat track racing. After the family moved to Detroit, where his father worked in the automotive industry, the young Willsey raced with Inner City Harley Davidson as a regional rider through his high school years, on mile and half-mile dirt tracks.
The tale might have continued for Willsey, had another, even greater, influence not been at work in his younger days – an influence that would have far reaching effects on his career, his life and ultimately, his racing.
"When I was very young, I lost my grandmother to cancer and then became aware that my other grandmother was a cancer survivor," Willsey remembers. "This led to a curiosity as to what cancer was, and how and why it killed people and more important why it continued to kill people. Despite being a well below-average student in high school and struggling to get accepted into college, I decided to be a doctor.
"I was drawn to surgery for two primary reasons. As a kid growing up, I was always fixing things, minibikes, motorcycles, cars, etc., and I developed a good tactile sense with my hands. In its simplest form, a surgeon is nothing more than a mechanic on the ultimate machine, the human body. In addition, the concept of taking a patient to the operative suite with cancer and having them leave cancer free was an amazing concept."
Willsey entered the pre-med program at Michigan State, earning a degree in Physiology, before heading to Wayne State for an MS in Biology. Accepted into Wayne State's dual, seven-year MD/PhD program, he couldn't resist the chance for one more racing adventure.
"I had the option to defer for a year, so I took every penny I had, bought a Triumph GT6 race car and a beat-up van and I raced throughout the Midwest for a year. When the money ran out, I sold everything and went back to school!"
After seven years of medical and graduate school, Willsey was accepted into the Harvard MA General Hospital surgical training program, then spent eight years as a surgical intern, surgical resident, urology resident, post doctorate, then fellow at such prestigious institutions as Massachusetts General Hospital at the Harvard School of Medicine, and the Dana-Farber Cancer Institute, also at the Harvard School of Medicine. Given all the demands on his time and energy, racing became something he only watched on television until he was able to find the time to buy a Porsche and start doing a few track days, autocross and time trials. And very quickly, it began to get serious again – with Daytona International Speedway eventually coming to the forefront of his racing ventures.
"I really enjoyed driving the Porsche, and when I met Greg Loles of Farnbacher Loles Racing, I decided to start running IMSA's Porsche GT3 Cup Challenge series. After two years, I just figured that if I was going to race cars, I might as well try the Rolex 24 at Daytona! So, we embarked upon that, and it's grown from there.
"Since then, between IMSA, the old July race, PCA, HSR and Ferrari Challenge, I figure I've run 35 races at Daytona. There were a couple of years when I ran the Ferrari Challenge, the old Koni Challenge (now the Michelin Pilot Challenge) and the Rolex 24 on the same weekend."
Willsey might have remained committed to racing Porsche Cup cars, but his quest for continuous development caused him to realize he had plateaued a bit. Analyzing his data, he knew he could improve his cornering speeds – and the best way to do that, he theorized, was to establish that "muscle memory" in a car with more downforce. Testing an LMP3 car, he was hooked.
"Once I started testing, I realized it was just a blast to drive. That was the first year of the IMSA Prototype Challenge series, so I did a race, finished on the podium and it was a ton of fun. And that was it."
Having met Sean Creech earlier in his career, and knowing Scott Sharp with Extreme Speed Motorsports, Willsey made the decision to join the Creech-led ESM team in 2018. The team won the championship title with Kris Wright, with Max Hanratty finishing third, and Willsey saw first-hand the expertise the Creech team brought to the table. 2019 and 2020 saw the operation go completely in-house, with the decision made to move up to the WeatherTech SportsCar Championship in 2021 when the LMP3 class joined the championship. When veteran racer and two-time series champ João Barbosa signed on, the team was set.
"I enjoy endurance racing and the opportunity to take the LMP3 car into an endurance format was a good fit. It's not that big a jump – we've all raced at this level before and we know what to expect. It's an opportunity to race against some of the best drivers in the world."
The only MD in the IMSA WeatherTech SportsCar Championship and former, Willsey sees a great deal of symmetry between being a surgeon and being a race car driver.
"There really are a great deal of similarities in the skill set. Some of the same sort of tactile senses that enable one to be a successful surgeon are also vitally important in driving a race car. And of course, there's the teamwork aspect. As a surgeon, you're part of a team in the operative suite, and just like an auto racing team, you're only as good as your weakest link. There is a big element of teamwork that is foundational to the success of both."
But Willsey has a bigger picture in mind now, a plan to help the lives of many instead of the few he can assist via surgery. He left clinical practice several years ago in order to do just that, focusing on the creation of drug treatments and programs, with companies such as DCF Capital, a hedge fund focused on investing in life sciences (where he was a founding partner in 1998) and San Francisco-based Exelixis, where he is a board member. He is also a consultant to institutional investors in the field of oncology.
"It was a philosophical decision, really. My interest is in oncology, but I believe I can have a larger impact on cancer patients and their lives in the area of drug development. So that's where I shifted my focus, to companies like Exelixis and others who are working in cancer treatment diagnostics."
And what do his medical colleagues think of his "other" passion?
"The vast majority don't realize it, because I don't really draw a lot of attention to it, so for the most part it flies under the radar. It really only comes up when someone has the occasion to look for information about me online, and 99% of what they pull up is racing related. They're surprised that I'm into motorsports – and even more surprised to find that I actually drive the car!"