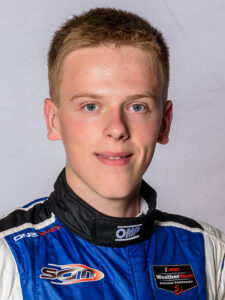 As DailySportsCar.com said in 2020, the young Danish racer "has been building a strong reputation for pace, consistency and maturity beyond his years."
The 18-year-old grew up at the racetrack, as his father Lasse ran Formula Ford and Formula 3 in Germany, with help from his father. The young Jakobsen first drove a kart at the tender age of 3 and continued to drive and race for fun until the age of 12, when he won his second Danish national championship.
In 2018, Jakobsen began racing Danish Formula 4, finishing sixth that first year. He won the championship in 2019 with 11 victories and 18 podiums in 21 races. While exploring his options, Jakobsen tested with 2018 European Le Mans Series LMP3 champions RLR Motorsport at Donington, filling in for a driver who cancelled at the last moment – and was immediately signed by the team. He contested the double header European Le Mans Series round at Le Mans in 2020, capturing top-10 finishes in both races, then finished 10th in the truncated 2020 European Le Mans Series season with four top 10s. Jakobsen competed in the Asian Le Mans Series, ELMS and two Michelin Le Mans Cup events in 2021, and also competed at Petit Le Mans.