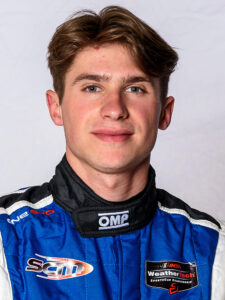 As the son of three-time FIA World Touring Car Champion Andy Priaulx and the grandson of single-seater racer Graham Priaulx, Sebastian Priaulx comes by his racing talent naturally. Beginning his karting career at the age of 8, he earned multiple championship titles before turning to auto racing at age 14.
​​Priaulx joined the Ginetta Junior Championship at the end of 2015 after finishing second in the series' scholarship shootout and earned a race victory and six podium finishes the following season. The youngster won the 2016 Winter Series and finished second in the 2017 Junior Championship title chase with seven wins and 13 podiums. Priaulx continued his open-wheel trajectory in 2018, finishing seventh in the British F4 Championship with two race wins.
In 2019, Priaulx shifted his focus to sports car racing, racing in the British GT Championship with Multimatic Motorsports team and storied veteran Scott Maxwell. The pair won their debut race at Oulton Park in the GT4 class and finished the season in second place with three podiums. Priaulx then headed Stateside, immediately making his presence known with a victory in his IMSA Michelin Pilot Challenge debut at Road Atlanta alongside Austin Cindric in the Multimatic Ford GT4. Finishing 11th in the 2020 Michelin Pilot Challenge season, Priaulx moved to the Porsche Carrera Cup North America series and captured the championship title with six wins, 13 podiums and 11 pole positions in 16 races.